Written by Gary Bala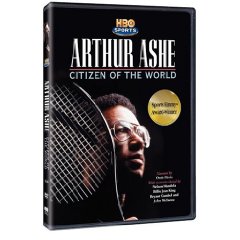 From what we get, we make a living; what we give, however, makes a life. Arthur Ashe
Arthur Ashe: Citizen of the World (HBO Sports DVD, 2005)(7 Chapters, Apx. 60 Minutes). Written by Frank Deford, Narrated by Ossie Davis, Directed by Julie Anderson.
Year 2010 represents the 35th anniversary of Arthur Ashe's victory in 1975 at the Wimbledon Championship. In a stunning and cerebral victory, Arthur Ashe, age 31, defeated No. 1 ranked Jimmy Connors in an upset at the finals, 6–1, 6–1, 5–7, 6–4. It was the first championship win by an African-American male, and black man of any origin, at tennis' most prestigious event.
And it provides a timely backdrop to review the 2005 HBO Documentary called "Arthur Ashe: Citizen of the World" – a moving tribute to his life and legacy.
In clips, photos and interviews of friends and admirers including Nelson Mandela and John McEnroe, the Ashe biography is presented as a reminder to us, and as a portrait to young viewers, of a story of accomplishment and inspiration. Ashe comes across as a thoughtful and soft-spoken advocate who always sought to give back for what tennis gave to him. The script is written by top sports writer Frank Deford, narrated by Ossie Davis, and set to haunting music.
Ashe's tennis accomplishments and victories are legendary and make him one of the top male U.S. players in history – 3 Grand Slam singles titles, first black man to win the U.S. Open and Wimbledon, Number One ranked U.S. Player in 1968, and leader of the U.S. team that won its first Davis Cup in 5 years.
Beyond his status as a tennis champion, Ashe contributed even more – as a noted writer and author, as an ambassador for a sport which was mostly a "whites-and-wealthy" country club game when he started playing, and as an advocate for human rights and social causes at home and around the world.
Today, we take it for granted that people of all backgrounds and races can enjoy equal access to sports at all levels. That was not always the case.
The skinny poor boy from segregated Richmond, Virginia in the 1950s, whose mother died when he was 6 years of age, developed in a largely "whites-and-wealthy" tennis establishment. He was coached by physician Dr. Robert Johnson, and moved on to UCLA college tennis and then the amateur circuit. Through it all, he kept his anger and frustration in check, as he built a world-class game with cool demeanor and good sportsmanship.
Over time, he made a name for himself in the sport, and became a drawing card in tournaments and clubs. And he later moved into the professional ranks, and forged an historic tennis career.
Ashe's career included that of a tennis teacher and coach, of both kids and top U.S. players on the Davis Cup team. And he became a vocal and proud activist for social causes at home and around the world – the struggle against racism in the U.S. and apartheid in South Africa, the fight for victims of AIDS, and advocacy for youth and kids.
Tragically after heart surgery in 1983 in which he contracted AIDS from a blood transfusion, Ashe died in 1993 at the age of 49.
And what did Arthur Ashe accomplish that affects us today?
In 1973, Ashe traveled to then-apartheid South Africa, where he had been denied a visa in the past, to play at the South African Open. He wanted to bring to light the system's injustice and offer hope to the country's blacks. Today, a lasting tribute to Ashe's efforts might be a top player such as Jo-Wilfried Tsonga, an African-Frenchman, who played and won the South African Open last year, without any political rancor and with great fanfare.
And so what is Arthur Ashe's legacy for us today and future generations?
It's about breaking barriers and overcoming prejudices. It's about helping to improve social conditions. And it's about fulfilling one's best potential in sports and in life.
Well done Arthur!
Timeless Tennis: A Blog
www.timelesstennis.net
For more on Arthur Ashe and his legacy:
1. Official Website for Arthur Ashe
2. International Tennis Hall of Fame Profile
3. Arthur Ashe Youth & Education Center in Philadelphia
A few honors and awards made to Ashe:
Inducted into the International Tennis Hall of Fame in 1985
Awarded the Presidential Medal of Freedom posthumously in 1993
ESPN's annual Arthur Ashe Courage Award for the person in sports
best showing courage in the face of adversity
A few facilities named after Ashe and working to improve lives in his memory:
The Arthur Ashe Stadium at the US Open, home of the annual Arthur Ashe Kids Day.
The Arthur Ashe Youth & Education Center in Philadelphia
The Arthur Ashe Athletic Center in Richmond
The Arthur Ashe Institute for Urban Health
A few books by Arthur Ashe:
Off the Court (1981)(Ashe's life story, especially outside of tennis, including his struggle against apartheid)
A Hard Road to Glory (1988)(Ashe's history of the African-American athlete in sports, considered a comprehensive reference book)
Days of Grace: A Memoir (1994)(Ashe's poignant best-selling autobiography written in the final days of his life, which includes his activist causes for victims of racism, apartheid and AIDS)
A tribute to Arthur Ashe (You Tube, Apx. 10 minutes)

Related Articles
Share
About Author
Gary Bala
(1) Reader Comment
© 2015 Essential Tennis. All Rights Reserved.