Written by Charles Lin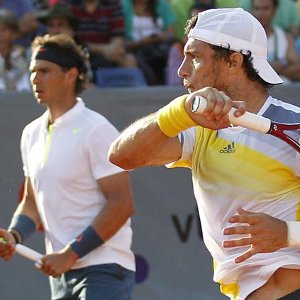 Maybe this is a product of my buzzed brain, but hear me out.
Rafa has been plagued by tortured knees for years now.  He's struggled to play an entire year of tennis.  His M.O. has been to play to about the US Open, and then fade through the end of the year.  Rafa has won a career Slam, but because the year end championship is, you know, at the end of the year, he's never won the title.  He's only been in the final once, and still he couldn't close the deal.
Occasionally, Rafa plays doubles.  His bullish style makes him a peculiarly, devilishly difficult player.  If a guy like Rafa can pass a superb volleyer like Federer standing so far back behind the baseline with raw aggression, imagine what lesser players can offer as resistance.  Rafa has managed to win 8 doubles titles which is amazing given he plays doubles about twice a year.  If Rafa is entered in the doubles, he has a 50% chance of winning the title.
And believe me, doubles needs someone like Rafa to play it full time.
So get this.  Rafa's knees are shot.  Yet, because singles is so prevalent, that's all anyone pays attention to.  Doubles doesn't even play real third sets.  To be streamlined, it's been reduced to a 10 point tiebreak.  But all the better for Rafa.
He's made the finals of Chile in doubles with partner, Juan Monaco.
So Rafa, are you ready to make that leap?  Leave singles behind, and play doubles.  You have the power to save doubles!
Related Articles
Share
About Author
Charles Lin
(1) Reader Comment
© 2013 Essential Tennis. All Rights Reserved.