Written by Charles Lin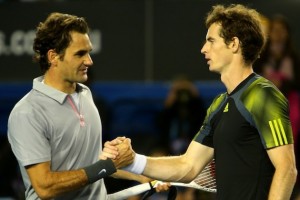 Andy Murray has a pretty good record against Roger Federer, a slight winning record.  But he had been 0-3 in their Slam encounters.  The first was understandable.  It was Murray's first encounter with Federer at a Slam back in the 2008 US Open.  In the second encounter, the 2010 Australian Open final, Murray tried to attack the Federer backhand and get in long drawn-out rallies, but Federer was hitting his backhand especially well in that tournament, and was able to weather the storm.  Finally, in the 2012 Wimbledon final, Federer stared to exert pressure, pushing Murray into long games where Murray was having trouble fending off break points.  Federer had grooved his shots during the Djokovic match and was hitting the groundies well.
Let's look at the various factors that lead to a Murray victory.
Murray's serve
When Murray was just starting to get big on tour, around 2006 and 2007, he had a pedestrian first serve.  Since then, he's worked hard to bulk it up.  He's not the first player to do this.  Arguably, one reason del Potro finally got very good was beefing up his first serve back in 2008.  Michael Chang, from an earlier era, tried to beef up his first serve, though he sacrificed first serve percentage.  The difference is that Chang was a scant 5'8″ while Murray is a tall 6'3″.
Up until this year, Murray's biggest problem was first serve percentage.  For a top player, Murray's first percentage was often mired in the mid 50% and would sometimes dip under 50%.  His second serve was considered passable as he would often spin the ball in.  Murray's skill off the ground could often mask an inferior second serve, but the best players could take advantage of it.
While Murray is skillful off the ground, he's not the kind of steady machine that Nadal or Djokovic or Ferrer are.  Winning a few free points off each serve really helps with Murray holding serve, and may be the growing influence of Lendl.  Because Murray didn't have a great serve when he was young, he needed his groundies to win matches.  Contrast that with someone like Milos Raonic who has a great serve, and has not quite developed his groundies (partly because he's not a terribly speedy player) nor his return.
Murray's serve can top out in the low 130s.  With Roger Federer stubbornly standing near the baseline to return serve  (contrast that with Nadal standing way back), he's more vulnerable to being hit off the court.  This style certainly works well against Raonic and Karlovic who lack the footspeed to compete with Roger when Roger is serving, but not as well against Murray.
Thus, the 21 aces from Murray helped Murray hold numerous times making it tough for Federer to make an impact on the Murray serve.  If Federer has a stat that's not terribly good, it's his return game.
Murray's return game
Federer is a spot server.  He serves around 125 mph and doesn't vary it that much except on the occasional off-pace serve.  Federer is simply comfortable hitting at this pace, and has never really tried to hit any harder like Murray has.  And, unlike McEnroe or Sampras, Federer usually doesn't hit aces to save break points.  He's as likely to hit a fault on big points as he is to hit a big serve.
Add to that, Murray is one of the best returners in the game.  All the players that have had some success against Federer tend to return well (Nadal, Djokovic, Murray).
Murray's return really paid off in the first set when there were at least 3 games where Murray had break chances.  Although he only converted one game, it was good enough to win the first set.  Murray had a much tougher time handling the Federer serve in the second set, but his own serve was humming.  Some bad decisions by Murray plus a few aggressive points by Federer spelled the difference in the second set tiebreak.
Murray attacking the Federer backhand, then his forehand
Murray opened up the match attacking the Federer backhand.  Federer's backhand has been a bit of an Achilles heel.  Over the years, Federer has learned to rally well with his backhand, but he takes fewer risks with that shot.  There are probably three other players that hit their backhand harder than Federer: Gasquet, Almagro, and Stan Wawrinka.  If Federer was a bit more aggressive off that backhand, able to threaten winners, he might have won a few more Slams, especially on clay.
Instead, Federer tends to use his backhand as a rally shot like some big players (Raonic and Isner) do with their backhands.  Clearly, he's versatile on that side.  He can slice.  He can hit the occasional winner, but it's not something that's reliable, especially if you hit to his backhand with pace.
Murray chose to attack the backhand on shallow angles rather than big angles.  Players sometimes go for shallow angles to avoid get into sharp angle exchanges.  Rafa, for example, loves opening up the angles.  If Federer hit the backhand down the line, Murray would hook a hard forehand to the deep crosscourt corner, and this shot, as well as inside-in shots to the Federer forehand, forcing Federer to move to his right, paid dividends.  Time and again, Federer struggled to move to his right, and would hit the shot long or wide when moved in that direction.
In the past, Federer would be the one controlling rallies while Murray would be the one scrambling.  This time around, it was Murray making Federer do the running, and thus Federer was playing more defensive tennis than he'd like.  Federer struggled a bit controlling points, and played a lot more neutral rallies hoping for an opening.
Under Lendl's tutelage, Murray has been more willing to control the center of the court, pushing players one direction than the other.  It's still not fully comfortable, because Murray prefers hitting crosscourt.  To compensate for this, Murray gives himself a lot of space from the sidelines so he isn't playing line clippers unlike, say, Djokovic, who loves playing shots near the line.
Murray's mental resolve
Federer can get on a streak where he's really confident and begins a full-flow attack.  This can be intimidating, and many a player has crumpled under Federer's withering attack, especially when he's in a lead.  Murray himself has been intimidated.  But with Murray's fitness and strength and new mental resolve, he believes he can weather the storm.  He knows Federer isn't Nadal.  If you can keep up with him, Federer will make mistakes.
In similar situations in the past, Murray would berate himself to play better, and that would often lead to more problems.  When Murray lost the fourth set tiebreak to Federer, he took stock of the situation, realized he had been in control of most of the match, even in the fourth set, and if he continued to do the things that lead him to this point, Roger would find it difficult to close Murray out.  Roger had to feel lucky to be at that point, especially with Murray having chances to serve out the match at the end of the fourth set.  Murray was still able to get into Roger's service games better than Roger was able to get into his games.
Once Murray engineered the early fifth set break, Roger knew it would be a long way back to win.  With Murray up 5-2, Roger was at least 5 games from winning the set, and that's if he broke twice.  It took a lot of energy to win the fourth set, but this wouldn't bode well for the final.  So Roger pressed a bit more, trying to go for big shots, but ultimately making errors.
In a way, this fifth set resembled the one from the US Open final.  In that final, Murray had played poorly in the third and fourth sets losing his serve early in both sets.  In the fifth set, it was critical to hold that first game, which he did, then got the break, and hung in til he won the Slam.
Conclusion
Andy Murray used to play a more defensive style while Roger played the more aggressive style.  Lendl has convinced Murray to be the one that's the aggressor, and to do it in every aspect of the game: serve, return, ground game.  He's improved his mental toughness, and eventually used his fitness and strength to take down Federer who is starting to show age.  Federer still moves well but he wasn't able to dictate as much as he wanted.  All in all, Federer did pretty well to push it to five sets, but he never quite got comfortable in the match.
In a way, this was a role reversal with Murray playing the aggressor and Federer playing defense.  While Djokovic decided to be more like Nadal, playing like a brick wall, Murray improved his game by being more like Federer.
Related Articles
Share
About Author
Charles Lin
(1) Reader Comment
© 2013 Essential Tennis. All Rights Reserved.