Written by Charles Lin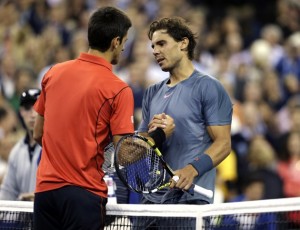 At this moment, Rafael Nadal and Novak Djokovic have met each other more times than any Open-era male rivalry (no one can compare to the Evert-Navratilova rivalry which had around 80 matches).  Rafa leads the rivalry 22-15 meaning they've played 37 times.  Indeed, they met 6 times in 2011 and 7 times in 2009.
Over that time, the strategies they've used have changed.  Rafa used to be a patient rallyer looking for a shot in the middle which he could attack either inside-in (his preferred method) or inside out.  His goal was not so much to hit a winner as it was to make the player run, and he does this better than any other player.  Normally a shot up the middle is a rather neutral shot, not an invitation to pound the ball.
But Rafa showed unusual restraint.  If a player was attacking him, he was perfectly content getting balls back, and waiting for the miss.  And players learned to attack Rafa, because if you didn't attack first, ultimately, Rafa would attack you.
When Andy Murray beat Rafa in the 2008 US Open semifinals, he was able to take his forehand and hit it inside out to the Rafa forehand.  In those days, this was an effective shot.  Rafa often struggled moving to his left, and he would hit the net in a desperate attempt to retrieve this shot.  He knew, long-term, that he had to run this shot down, or players would continue to do this.
Witness the 2013 final, and you saw Djokovic hitting inside out forehands big, and still, quite often, Rafa got to the shot and made a play.  Maybe Rafa learned to hit that shot with a quick wrist flick.  Maybe he picked up half a step of quickness.  Whatever the reason, that inside-out power forehand is not nearly as effective as it was.
When Novak went on his run in 2011, he essentially adopted the Nadal strategy with a twist of his own.  He learned how to hit just hard enough that the reply was not going to be aggressive, and thus, he could play long rallies with Nadal.  At that point, Nole was himself a wall that was hard to hit through.  Roger Federer found this to be a challenge in 2011.  Nole began to take wide shots to his forehand and curl them back with angle crosscourt, often surprising Federer.
Djokovic would then take the offensive once the rally got a bit lengthy, and Nadal seemed helpless to do much about it.  When the 2011 run came, he beat Nadal seven times in a row.  The first two times were in Indian Wells and Miami.  Many wondered if Nole could beat Rafa on clay because Djokovic had not been able to beat the Spaniard on clay.  He had come perilously close in 2009, but ultimately could not seal the deal.
But surprisingly, he was able to beat Nadal at both Madrid and Rome, both in straight sets, despite having been pushed to 3 sets in the hard court Masters events.
Djokovic's mastery of Nadal reached a peak at the 2012 Australian Open final where he was pushed in a 6 hour marathon.  To be honest, that match could have gone either way.  Nadal was about to get to double-break point with an easy pass that he pushed wide.  Djokovic ultimately held then broke.
At that point, Nadal had to go back to the drawing board and figure out a way to beat Djokovic.
Nadal's primary change was to be more offensive.  Take charge earlier in the point.  Learn to hit the down-the-line forehand when pushed with an inside out forehand.  He probably had players bean inside-out forehands as he practiced getting his timing to hit down-the-line shot after down-the-line shot using the natural curl of his forehand to bend the ball in.
Against Djokovic, Nadal trotted out two other ideas.  First, he upped the pace of his serve.  Normally, Nadal is content to serve around 110 mph.  This gives him accuracy without being too taxing.  But, against Djokovic, who returns so well, he wanted to move that closer to 120 mph.  Second, he sliced a lot from the backhand especially up the line.  While Rafa handles slices very well, often attacking them, he realized most opponents don't deal with it that well.  They might not lose the point, but it is somewhat hard to attack.
Meanwhile, Djokovic's strategy in 2013 has been to attack Rafa.  This is a dangerous strategy because Rafa defends incredibly well.  Djokovic was able to do this for about a set and a half, more effectively than pretty much anyone else.  He used this strategy at the French Open, probably more effectively than at the US Open.  But it typically requires anywhere from 3-5 very hard struck shots to win a point against Rafa, and Rafa seems resilient.  Rather than get down about the winners going past him, he continues to retrieve, continues to make Novak work for the point.
And while the strategy works for a while, invariably, it seems to fall apart.  This is what happened to Roger Federer.  Federer will make a few winners against Nadal, but Nadal gets enough shots that Federer has to hit 2-3 winning shots before he really wins the point, and each time a player is gunning that shot, the chances for errors goes up, and it often goes up in silly ways.  Netted shots after 1-2 rallies after a prolonged 30 shot rally.
Could Djokovic have beaten Rafa?  Absolutely.  The 0-40 game in the third set was the ideal time to do it, but Novak couldn't keep it together enough to break.  Had he done so and had he served out the set, his confidence would have been sky high.  Nadal, of course, doesn't break down with despair.  He would still have fought, but that confidence might have pushed him through the fourth set, where Djokovic's confidence evaporated after being unable to break and then getting broken himself.
This strategy lead to numerous errors.  Djokovic had some 53 errors in a four set loss.  He had more errors in the French Open loss, but that's because it went 5 sets, and even then, he was desperately close to making it.
The Djokovic-Nadal match of today now appears to be Djokovic powering shots and Nadal defending, looking for chances to pound as well, and this strategy is markedly different from 2011 where Nadal played a bit safer.  Give credit to Nadal for learning to play harder.  It may not just have saved the rivalry for Nadal, but perhaps ultimately, his knees.
Related Articles
Share
About Author
Charles Lin
(1) Reader Comment
© 2013 Essential Tennis. All Rights Reserved.