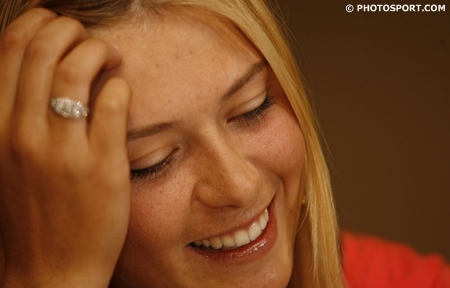 Three time major champion Maria Sharapova is engaged to Los Angeles Lakers guard Sasha Vjuacic.
The agent for Sharapova confirmed the news in an e-mail to The Associated Press.
According to numerous reports, Vujacic, 26, asked 23-year-old Sharapova to marry him on Tuesday night at his Manhattan Beach, Calif. home. Vujacic said he proposed on the one-year anniversary of their first meeting at a friend's barbecue. Awww, isn't that sweet? "It's was probably old school," Vujacic said. "I had to do it like a gentlemen."
The two have been dating for almost a year. They were first seen together at a U2 concert in L.A. last November. A wedding date has not been set.
Vujacic has been on the Lakers' bench recovering from a concussion. He returned to action Thursday, a week after getting the concussion when teammate Lamar Odom accidentally elbowed him in the face during practice. Vujacic averaged 2.8 points and 1.2 rebounds in 67 games for the Lakers last season, his sixth with the club. I'm guessing that time on the bench gave him time to realize that other things are also important, like who do I want to spend the rest of my life with?
"We are engaged and are both really happy," said Vujacic said on Thursday. "It's good and now we can focus on other things."
Sharapova won her first major title at Wimbledon in 2004, when she was 17. She went on to win the 2006 U.S. Open and 2008 Australian Open and also reached No. 1 in the WTA rankings.
After shoulder surgery and an elbow injury forced her to miss time the past two seasons, Sharapova is currently ranked 18th.