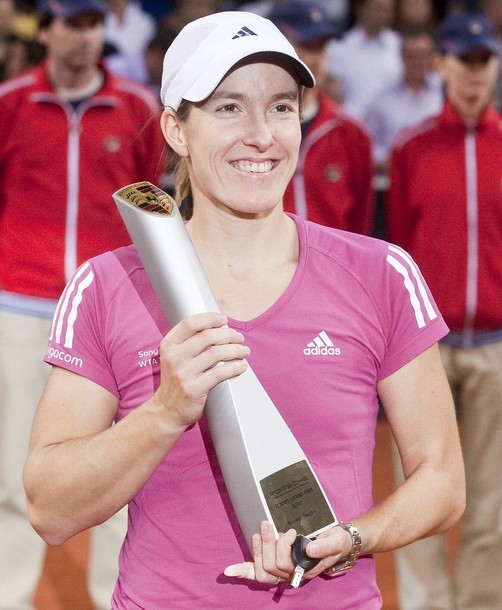 Former World No. 1 Justine Henin of Belgium won her first tournament after coming out of an 18-month retirement, showing she is serious about her comeback, and someone to be reckoned with heading into the French Open. Henin took three sets but was able to defeat Australia's Samantha Stosur 6-4, 2-6, 6-1 in the final of the 2010 WTA Tour Porsche Tennis Grand Prix in Stuttgart, Germany on Sunday.
Henin finally made the breakthrough after being beaten in two previous finals this year. Henin was also the champion in Stuttgart in 2007.
"I never thought I'd be back in Stuttgart a year ago. And especially for it to be on clay now, it means a lot to me," Henin said after winning her 42nd career title.
There were some tense moments though, as the Belgian's forehand suddenly disappeared during the second set and Stosur, fresh from winning the title on green clay at the Family Circle Cup in Charleston, threatened to capitalize on Henin's sudden drop in form.
Yet in the third set, the unseeded Henin recovered from that slump, bringing out a more aggressive style of tennis and those troublesome forehands almost without exception found their range.
It was a display that would have left some – perhaps not Jelena Jankovic, who in Stuttgart recorded her 10th loss in 10 matches against Henin – with a few ideas of how they might find a way through the 27-year-old's defenses on the red clay. It looks like they will need to come up with some new tactics, because Henin seems to be back with a vengeance.
It's also a win that should serve as a warning that three years after her last Roland Garros title, Henin might still be the one to beat at the clay court Grand Slam this year. Henin did not play in the last two French Opens.
The win at Stuttgart put Henin back in the world's top 20, as she gets ready for her bid for a fifth title at the French Open, which begins on 23 May. It also ended an 11-match winning run for Stosur.