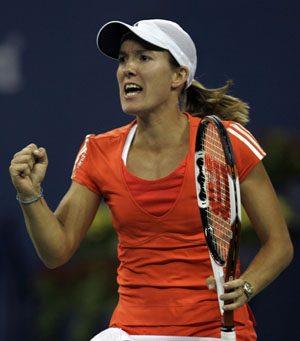 Justine Henin has recently announced her retirement, and is now challenging doping rumors.
In a farewell press conference, the newly-retired former World No. 1 from Belgium rued her bad luck and confronted those who spread rumors of her allegedly doping.
"I regard ending my career more like a sentence that's been handed down than a decision I've made," said Henin, who retired for the second time because of elbow problems. "I've had to deal with a lot of injuries throughout my career but this time, at 29, I just can't go on. You have to be reasonable about things. When I came back from Australia, I had consultations with three different doctors. The will is there, but physically I can't do it. It got to the point that I needed 10 minutes in the morning just to get my elbow functional. The ligament wasn't solid enough to handle the intensity of the game. For me, it's like a sentence. Now I have to mourn the end of my career."
Henin reportedly asked that any journalists who participated in the doping rumors leave the room where the press conference was being held.
"That hurts me, and all the people who have been part of my entourage. I can't accept that, nor will I forget or forgive. I have never cheated," the Belgian said.
This is Henin's second retirement. She retired three years ago when she shocked the world by announcing her retirement less then two weeks before the 2008 French Open in which she was the favorite. She had won the French Open four times, including the previous three years in a row. She never gave an explanation which would satisfy her fans, saying simply, "It is a new beginning for me. I feel like I already lived three lives. I gave the sport all I could and took everything it could give me. I take this decision without the least bit of regrets. It is my life as a woman that starts now."
Then in 2010, she came back out of retirement just as mysteriously, reaching the Final of the Australian Open, and the 4th round of the French Open and Wimbledon. Then an elbow injury took her back out of the game, and it looks like this time the retirement will last.