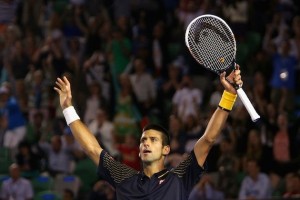 Now that week 1 is over, this is a good time to review the top players plus a few more things.
Novak Djokovic
Through the first three rounds, Djokovic has looked the most solid.  His strokes always looks pristine.  Admittedly, he played a resurgent Paul-Henri Mathieu who, nonetheless, hasn't worked his ranking up to its high of around 20, then Ryan Harrison, who seems a bit stuck trying to get his rank up too, and the attacking Stepanek who doesn't have enough weapons to bother Djokovic.
Although the match between Djokovic and Wawrinka in the fourth round will go down as one of the best in the tournament, it started off with Djokovic playing rather poorly.  This may have been Wawrinka's power disrupting Djokovic's rhythm.  This match only improved the longer it went, with Wawrinka clawing out a fourth set, and fighting his hamstrings and himself to keep even for 20 games in the fifth set.
Djokovic's first big challenge will be Tomas Berdych.  We'll get to that in a moment.
Roger Federer
Federer came into Melbourne without a warmup tournament, something he hasn't done in years.  He beat Benoit Paire who played erratically in the first round, and lacked focus.  Then, he played well against Davydenko in the second round.  Federer played his best tennis against Bernard Tomic who tried to push him around with his newfound power, but was unable to keep up with Federer.  Federer then played Raonic as if were playing Karlovic, waiting for his few chances to break before pouncing.  Perhaps, of the top 3, he's playing the best tennis.
Up next for Federer is Jo-Wilfried Tsonga.
Andy Murray
If you were to look at the score, Murray would be the one that's in the best form.  He's only had one 7-5 set and one 6-4 set.  Otherwise, it's been lopsided.  In the first round, he beat Robin Haase.  In the second, he beat Joao Sousa.  In the third round, he beat Ricardas Berankis.  Despite the lopsided score, Berankis won some of the longer rallies and was able to take the game to Murray.  However, Berankis made numerous errors of his racquet, so any advantage he tried to gain was nullified by his own errors.  Murray, meanwhile, didn't seem completely authoritative on his groundies, lapsing back into some older habits of trading crosscourt shots.  In the fourth round, he faced a fatigued Gilles Simon.  Again, despite not playing well, he won pretty easily.
His quality of opponent should go up with Jeremy Chardy who has a big serve and a big forehand.  Murray has been complaining that he hasn't been pushed so he isn't as sharp as he'd hoped.  Chardy should give him that challenge.
David Ferrer
Although Ferrer had an early season loss to Davydenko in Doha, David Ferrer is steady as money.  He beat Olivier Rochus in the first round, then needed four sets to beat lucky loser, Tim Smyczek, then handled Baghdatis and Nishikori comfortably.  He takes on Almagro next.  The question is can Ferrer bother Djokovic.  He'll hope that Berdych knocks him out because he's had recent success against the Czech.
Other top ten
Tomas Berdych has gotten on one of his runs where he's mowing down opponents.  He didn't start the year that great, but he probably realizes that losses in warmup tournaments aren't the same as losses in the main event.  He's yet to drop a set, though he was pushed to a tiebreak by Kevin Anderson.  Berdych takes on Djokovic next.  Djokovic has a very good record against Berdych, so Berdych has to hope that the 5-setter fatigued Djokovic.  Otherwise, he comes in with his best chance at an upset in a long time.
Jo-Wilfried Tsonga has been playing pretty solid tennis so far only dropping one sets against Gasquet.  He'll hope that his newfound coach and weight-loss will give him the edge to bother Federer.  This will be Federer's first big test.  Raonic and Tomic were tough, but Fed was tougher.
Disappointments
Some had hoped Juan Martin del Potro would make a deep run, but a surprise Jeremy Chardy and a relatively flat del Potro lead to a 5-set upset in the third round.
Grigor Dimitrov, who reached the finals of Brisbane, faded badly against Julien Benneteau in the first round.
Janko Tipsarevic should have done better at the Australian Open.  The top pros know you don't want to get caught playing long matches in the early going, but unfortunately, Tipsarevic found himself in that hole, being pushed to 5 sets by Lukas Lacko and Julien Benneteau.  It left him fatigued and hurt, so he wasn't able to give Almagro much of a challenge.
Surprises
Jeremy Chardy was known as a solid player, but few would have picked him to beat del Potro, then to make it to the quarterfinals.
In a way, Bernard Tomic's comeback is a surprise.  Consider a player like Ernests Gulbis, who everyone thought would have a great career.  He's floundering.  Perhaps Tomic's confidence in his skills has helped.  He certainly didn't have a good 2012, but worked hard to bring new skills to the table, and despite being pummeled in the third set against Federer, he pushed Federer, especially in the second set.
Stan Wawrinka has been playing solid, if not spectacular tennis.  He's talented, but has never quite gained the confidence to put himself back in the top ten.  Will this near upset elevate his game, and make a difference?
Jerzy Janowicz reached the third round which is as his seeding would have predicted, but his seeding is almost entirely based on a run to the Paris Indoors final, so getting to the third round shows that Janowicz has some consistency.  He nearly didn't make it out of the first round when he was down two sets to love, then stormed to take sets 3 and 4 over Somdev Devvarman, then battled in the fifth set, before claiming victory.
Gael Monfils, who probably should have been seeded, but wasn't due to injuries. played reasonably well given how much time he has taken off the tour.  He had a chance to beat Gilles Simon, but did upset Dolgopolov in the first round in a match that neither probably wanted to be in.
Fed beats the young guns
Bernard Tomic and Milos Raonic are trying to be the next great players, but Roger Federer showed that the old man still has moves and they'll still have to wait their turn.
Conclusion
If Djokovic can recover (which he did last year beating Nadal in 6 hours after surviving Murray in 5 hours in the semis), then he's still the class of the field.  I'd say Federer has played the best so far, but honestly, for me, you don't know how Federer is really playing until he plays a tough player, and he'll do that against Jo-Wilfried Tsonga whose aggressiveness appears to have gone up a level.
Murray, to me, has yet to play his best tennis.  He'll say that's OK.  I think Jeremy Chardy will be a good test for him.  Chardy will try to belt the ball.  These kinds of players have given Murray trouble.  He's even lost to Chardy back in Cincy before the US Open.  This is the match he wants to put it all together and play solid tennis.  He's had easy wins because his opponents haven't played that well either.  Murray is also doing well breaking back on serves, and hitting big serves as needed.
Finally, Ferrer is playing his usual high-level tennis.  The question is whether it's enough to beat a player like Djokovic.