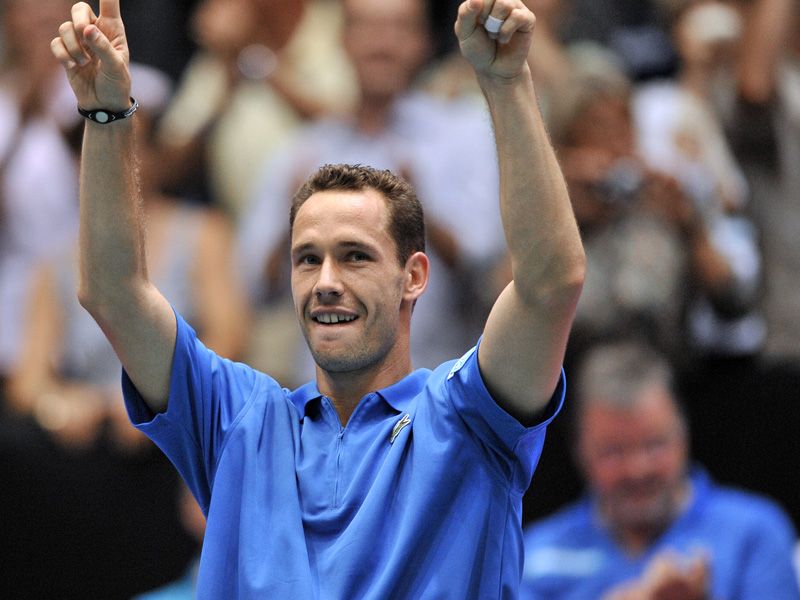 Long time fans have long lamented the disappearance of true serve and volleyers.  The last two good serve and volleyers were probably Pete Sampras and Patrick Rafter.  Both their careers were essentially over in the early 2000s.  Names like Tim Henman, Jonas Bjorkman, or if you go back far enough to Edberg, Becker, McEnroe, and a whole host of players that earned their living coming to the net.
Roger Federer once served and volleyed a great deal.  In his only match against Pete Sampras, in the fourth round of Wimbledon, Federer served and volleyed nearly as often as Sampras.  He came to net especially against stout baseliners like Lleyton Hewitt and David Nalbandian.  But Roger knew the era was coming to an end and he had to learn to win from the baseline.  So this generation's best hope for a true serve and volleyer went out the door.
Taylor Dent, often called a serve and volleyer, plays serve, big forehand, and come to net.  This is a guy who hits some of the fastest serves on the tour, and yet, he doesn't truly serve and volley.  Some players, whose ranks are in triple figures, like Prakash Amritraj, son of Vijay Amritraj, plays serve and volley, but isn't good enough to play at the top of the game.
That leaves veteran doubles specialist, Michael Llodra, the best serve and volleyer in the world.  Ranked 35th in the world, Llodra has won 18 titles in doubles, and 5 in singles.  Indeed, two of his titles were won this year.  He won Marseille on a hard court beating his doubles partner, Julien Benneteau, in the finals, then teamed up with him to win the doubles title (the same week, Sam Querrey beat doubles partner, John Isner, in Memphis, and went on to win the doubles title too, probably the first time this double double has ever been accomplished).
Llodra also won Eastbourne on grass beating Guillermo Garcia-Lopez.  He came close to winning a title on clay, being a finalist against Richard Gasquet, at Bordeaux.  Had he won, he and Querrey would have shared another distinction: winning a title on three surfaces in the same year.  At 30 years of age, he is having his best year on tour.
Llodra has been on the tour 11 years, playing since 1999.  It's probably no surprise that you have to find a player who played before 2000 that plays serve and volley.  You need a big serve, enough of a ground game that you don't get pushed around too much, and of course, great net skills.
Llodra has a big enough serve that he pressures his opponents on return, but not so big that he's hitting aces, like Pete Sampras.
He got an opportunity to be the hero of France in a Davis Cup tie against Spain.  Captain Guy Forget picked a fast indoor surface for the contest, and lucked into Michael Llodra playing some of his best tennis ever, and playing aggressive tennis, robbing Verdasco both of time and rhythm.  Forget said Spanish players like to hit lots of balls to get a rhythm.  By coming into net, Verdasco was forced to pass all the time, and was left shrugging his shoulders, something he did most of the weekend.
Will there be some player that bucks the trend?  That dares to play serve and volley despite the risk of having a bad game where he misses a few too many shots?  In the end of the record-breaking match between Isner and Mahut, Mahut resorted to serving and volleying, and he gave Isner chances to return and pass.  It was just enough of an opening for him to win.
In the meanwhile, try to catch a Michael Llodra match.  There's still someone out there trying to win points at the net.