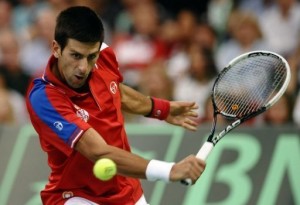 Now that the US Open is over and each of the top 4 has played in Davis Cup, let's see how the top 4 are looking for the rest of the year.
Novak Djokovic
Djokovic has said that his pain was bad enough to prevent him from completing his match against del Potro, but not so serious that he needs to do much beyond rest.  He's likely to be out for at least 3 weeks.  Djokovic generally does well after the US Open, but because he's played so much, he'll need more rest than he normally does.
Let's see how Djokovic did last year.
Djokovic won Beijing (ATP 500), was a semifinalist at Shanghai (Masters 1000), a finalist at Basel (ATP 500), third round in Paris (Masters 1000), and semifinalist at the ATP World Tour Final.
Djokovic is defending about 1900 points (Beiking-500, Shanghai-360, ATP World Tour Finals-400, Basel-300, Davis Cup-250)
These are pretty strong performances.  Djokovic will probably skip Beijing and possibly Shanghai.  He's so far ahead in the rankings that he doesn't even have to play the rest of the year and would likely hold onto number 1 (he has about 2000 points to defend).   However, he'll probably try to make Shanghai, and if not, maybe return at Basel.
The main issue for Djokovic is recovering and then training.  But he may be more frugal about which tournaments he plays, and I suspect he may play 1-2 fewer tournaments.
Rafael Nadal
Nadal played somewhat sparingly during last year's post-US Open run.  He played the Asian swing (probably because of the guarantee money) which included Bangkok (semifinalist), Tokyo (winner), and Shanghai (third round), and ATP World Tour Final (finalist).  Nadal generally performs poorly in this swing, although in the past 2 years, his body has held up well enough to compete in this part of the tour.  In the past, he's gotten injured and basically not played after the US Open.
Nadal is defending about 1600 points (1000 from the ATP World Tour Final and 500 points from Tokyo make most of it).  On the one hand, Nadal was fatigued from the US Open, but he looked really good in Davis Cup.  I think Nadal will do as he did last year and try to play a limited fall schedule so he doesn't wear himself down.  There's still one title that Nadal would like to win that he hasn't: the year-end championship.
One reason Nadal hasn't won this title is because he is so rarely healthy enough to play it.  Where Federer has won it 5 times and played it 9 times, Nadal has never won it and has only played it 4 times.  His best performance was last year where he reached the finals, losing to Federer.
Roger Federer
Federer actually played exceptionally well last year after the US Open.  He was a finalist in Shanghai (Masters 1000), won Stockholm (ATP 250), won Basel (ATP 500), reached the semis of Paris (Masters 1000), and won the ATP World Tour Finals without loss of a match.  Indeed, Roger began playing well starting after Wimbledon.
Federer won the Australian Open in 2010 but was concerned about being number 3.  I think he tried to make a strong push to get back to number 1.   I think Federer was hoping that this success would vault him to a win at Australia and start 2011.  Little did he know that Djokovic would have a great year.
With these tournaments, Federer is defending about 3200 points.  About 40% of Federer's points come from all the tournaments after the US Open.
I thought Federer was playing pretty good tennis again.  However, he did lose early to Tsonga in Montreal and Berdych in Cincy.  Last year, he reached the finals of Toronto and won Cincy.  The main problem is that Federer is vulnerable to players like Tsonga and Berdych.  The one thing in Federer's favor is Berdych isn't 100%.
Federer doesn't like playing a lot after the US Open.  Last year, he was trying to time the record to beat Sampras's number of titles at Basel which meant he decided to play Stockholm, a tournament he hadn't played in half a dozen years or more.  With Federer defending so many points, his main concern is whether he can even come close to that, or whether he should try.  And this assumes he can get past Djokovic.  Federer had Djokovic's number in 2010 in all but the most important match, the US Open.  This year, that's not the case.  Even in the best case, you feel Federer would split matches with Djokovic.
The one plus for Federer is that Djokovic may not be 100% and may play a much slimmer schedule.  However, Djokovic is so far ahead that he has to worry about Nadal, and Nadal has relatively few points to defend.  There aren't enough points for Federer to catch up to Nadal.  Federer stands to lose quite a bit of points, and he's just over a thousand points ahead.
Andy Murray
Murray did much worse in the US Open last year than he had hoped losing in the third round to Stan Wawrinka.  He lost early in Beijing to Ljubicic.  He rebounded by winning Shanghai, lost early in Valencia, lost in the quarters of Paris, and reached the semis of the ATP World Tour Finals.
Murray is defending about 1700 points (Shanghai-1000, ATP World Tour Final-400, Paris-180 make most of his points) which is about what Nadal is defending.
Like the other 3 players, Murray played Davis Cup.  Given the weak Hungary team, it's surprising that Murray struggled.  Murray often plays down to his opponent.  Nadal, by contrast, always plays at a level where he pressures his opponents, and they feel immense pressure to hit winners to keep up, so Nadal gets twice the benefit.  He wins points when opponents make weak shots, and he wins points when they try to make big shots, but miss.  Murray generally doesn't try to hit that hard, so his opponents can take advantage of this and play aggressive against him.  And if his timing is off, his game can be error-prone, and not in the same way that Federer is error-prone.  Federer becomes error prone because he goes for big shots all the time.  Murray's flat shots can lead him to just miss even when he's not being pressured.
Overall
After the US Open, I felt Djokovic did well to win, but he wasn't playing his best.  He was a bit lucky in the final.  As he was in pain, Nadal also lost his legs, and so Djokovic won that war of attrition.  He did save his best playing for the finals, however.  But his win came at a price.  His back is hurt, and so he'll need to rest, then go back to training.  Still, the confidence level is so high that it could sustain him the rest of the year.
Nadal looked about the same as Djokovic.  Didn't look great, but his average level is so high that only Djokovic can really pressure him.  Nadal looked awesome on clay.  Given that he was as tired as Djokovic (but not injured), it was an impressive comeback to beat 2 top-15 players quite easily.  Nadal generally doesn't play nearly as well in the fall as the rest of the year.  The question is where he'll be once he plays again.
Murray whined about the schedule during Davis Cup.  He is scheduled to play Bangkok because of the appearance money, but didn't seem that enthusiastic about it, and this might lead to an early loss.  Murray has to think about making a nice push in the fall because it might lead him to a good start in Australia again.
One guy all players will have to worry about is Juan Martin del Potro.  del Potro will make a good push to get back in the top ten.  What he needs to do is get his power forehand back.  He did it partly well against Djokovic in Davis Cup, but needs to do that a bit more consistently.  He may resort to a strategy like Murray where he plays more patient against weaker players and goes for big power against the best.