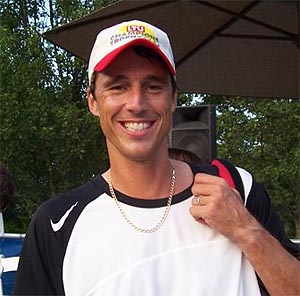 ATP World Tour Uncovered is a pretty good tennis program which gets aired on Tennis Channel.  It's not a Tennis Channel produced show (it seems the minimum requisite for such a show is to have someone who could have been an ex-model hosting it), but appears to be a show from the UK.  This week, in the mid-week Indian Wells episode, they interviewed Aaron Krickstein.
For those who haven't heard of Aaron Krickstein, we need to back up the early 1980s.  At the time, American tennis was lead by Jimmy Connors and John McEnroe, but Connors was getting to his 30s and there was no clear star on the horizon to replace him.  During this time, there was an ex-paratrooper by the name of Nick Bollettieri who came up with a particularly crazy idea.  Although he had only played tennis casually, he thought if he could create a tennis academy and bring the best talent to play there, he could make a name for himself.
Although Andre Agassi would become Bollettieri's best known protege, it was Jimmy Arias that became the first well-known Bollettieri player.  He had a big forehand and some quickness.  His serve was nothing special, and he wasn't a particularly good volleyer.  He was perceived as Ivan Lendl lite.  Lendl did pretty much everything better than Arias.  Lendl had a much bigger serve, had the bigger forehand, had a better forehand, and eventually learned to volley proficiently, if not exactly superbly.
Arias's career had its highlights very early.  Most people who remember Arias only remember 1982 and 1983.  Like many pros that faded after a good beginning, he stayed on tour for years.  Arias didn't retire until 1994 many years after his best achievements.  (Many people didn't realize Wilander continued to play for years after 1988, his best year ever).
In 1983, he made a big splash at the US Open.  He beat Stefan Edberg in the first round in five sets.  At the time, Edberg was en route to winning the junior Grand Slam, still, the only player to do so.  Although Edberg would still have a great career ahead of him, he was virtually unknown at the time.
Where he really made a breakthrough was in the third round where he beat Vitas Gerulaitis.  Gerulaitis lost in five sets, double faulting in the double digits.  Gerulaitis was still a top player in those days, but he would occasionally buckle under pressure.  Krickstein would then play the dynamic Yannick Noah in the fourth round where Noah would hit the most famous 'tweener until, well, until Roger Federer's famous one in 2009.
Krickstein would go on to win in Tel Aviv, which was a big deal for one of the few Jewish pro tennis players on tour.  He would be the youngest pro at the time to ever win a pro event.
1984 would also be a very good year for Aaron Krickstein.  He'd reach the finals of Rome, win in Boston, reach the finals of Washington DC, defend his title in Tel Aviv, and win in Geneva.  For the next several years, his rankings would run between about 20 and 40.  Alas, Krickstein was a bit injury-prone.  He missed nearly 8 months from the end of 1987 to 1988, and his ranking dropped to the 60s, and he had to work his way back up.
1989 was one of Aaron Krickstein's best years reaching the fourth round of the Australian Open, the fourth round of Wimbledon, and semifinals of the US Open.  His ranking was up at 8.
In 1990, after reaching the final of Tokyo, Krickstein's ranking reached its high, at 6.  But his ranking would start to slip by the end of the year dropping to 20, then closer to 50 by the time he reached the US Open in 1991 where Krickstein would play his most famous match.
Jimmy Connors, age 39, was already way past his prime.  He would meet Patrick McEnroe and seemed ready for a first round exit, but Connors fought his way through that first round match and was on a roll.  By the time he was in the fourth round, he would play Aaron Krickstein.  Krickstein generally played quite well at the US Open.  It was his best Slam and he'd always done well there, but it was also Connors' favorite tournament and he did even better.
Krickstein really looked like he would win this, even very late into the fifth set.  However, Connors aggressive play always did give Krickstein a tough time with his flat groundstrokes.  Connors was also not above bullying umpires and using intimidation to win.
Krickstein would play until 1994 when he was 28 years old.  Unlike Connors, he would not play professional tennis throughout his 30s.  He felt his injuries were just too bothersome.  Everytime his career appeared ready to take that next step, an injury would derail him.  He recalls an incident where he decided to serve and volley, something he never did and as he split step, he came down wrong, and broke his ankle and didn't play for months.  This was only the most serious of a series of injuries that plagued Krickstein.
Krickstein has, since then, gotten married and has a 6 year old daughter, Jade.  His niece is the golfer Morgan Pressl, the daughter of his sister who succumbed to breast cancer at 43.
So how did Krickstein play?  Much like Jimmy Arias, Krickstein also possessed a big forehand, though hit almost like a forearm half-volley.  It's quite amazing how the power game of the early 80s was hit with relatively short strokes.  Ivan Lendl, noted for his big forehand, kept his elbow tucked to his side.  You never see Federer or Nadal hit like this.  Their arms are extended in front very straight.
Krickstein didn't have a particularly big serve.  He was more successful than Jimmy Arias probably because he was taller than Arias and had a more solid backhand.  Arias claimed that he was a victim of the racquet revolution, that he never got used to playing with big racquets that changed the game in 1983 to 1984.  Wood racquets disappeared almost entirely by 1984 in the biggest technological revolution that a major sport has seen.
Krickstein now plays in the champions tour and enjoys knocking the ball around with his former cohorts.  He seems like a pretty happy guy now, except on those rainy days when they show his shocking loss to Jimmy Connors.  Maybe one day, they'll make him happy and telecast his 3rd round win over Vitas Gerulaitis back when he was so young, his hair so poofily typical of the 1980s.