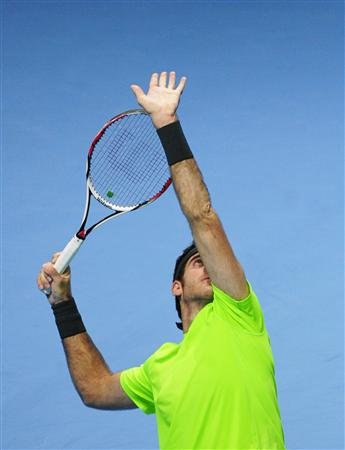 Even as Federer passes 30, he still has more records to achieve and more to preserve.  First, with a victory, he exceeded the number of wins Lendl had at year-end championships.  Second, he's had never lost to Ferrer, and had not been broken by Ferrer since 2010.  This is impressive given that Ferrer is one of the best returners in the game.
Ferrer, as everyone knows, is a scrapper.  He lacks the power to put away winners unless the opponent happens to be way out of position, but he hits hard enough to keep pressuring his opponent.  But, he does tend to get starstruck playing players like Federer or Nadal.  It's true Federer and Nadal have weapons that Ferrer doesn't, but Ferrer sometimes finds it tough to play his best against them.
For example, this should have been a day that Federer could have lost.  He's not been serving that well at London, and he started off particularly bad against Ferrer.  He made 30% of first serves which lead to some 10 break opportunities of which Ferrer converted none.  Federer could easily have been down 3-0, but instead he was up 3-0.  He broke in his only opportunity to 2-0.
Ferrer even had a chance to break back at 2-0 when Federer pushed a deep shot to his backhand and Ferrer went down the line for an apparent winner.  However, umpire Mohamed Lahyani called a late call out.  Upon challenge, the ball was determined to be in, and Ferrer was upset.  Despite several additional break opportunities, Federer escaped that game.
Basically Federer can hit the ball just a bit harder than most opponents and that pace is just enough for Ferrer to not quite get to the ball in time, and put him in a bind.  Unlike other opponents, most notably Roddick, who tried to mix it up against Federer, hoping to find a formula that would work, Ferrer seems to play Federer pretty much the same way he plays everyone, being aggressive without being too impatient.  Jimmy Arias, who was doing commentary, thought maybe Ferrer should simply play defensive and get shots back, but it's tough to do because Federer is likely to go on the offensive at any time.
Ferrer did eventually break back before Federer had a nice game to break at 5-4 and take the first set, despite poor serving.  Although Federer served better in the second set, it went to a tiebreak, one which Federer won.
With two matches won, and no sets lost, Federer was guaranteed a spot in the semis regardless of how everyone else played on Saturday.   Federer said when he first reached the year-end championships, he won his first two round robin matches, and became perplexed how he should handle the third one.  Should he give full effort to win or not?  He finally decided a win is a win, and it provides momentum–and these days, that win is worth 200 points, so he now plays to win, and he said he'd want to do that against del Potro, that he doesn't want del Potro to get momentum with two consecutive wins.
This is pretty impressive given Federer's not played all that well, but his group is tailor-made for him.  He has so few losses to everyone else in Group B that he has extreme confidence even when he's not playing well.
Earlier in the week, Tipsarevic, who said he had a plan to play Federer, got thumped once again.  If Ferrer hadn't broken Federer since 2010 (he did break him today), Tipsarevic hadn't broken him since 2008, and Federer continued his dominance over Tipsarevic.  Tipsarevic revealed, in his post-match interview, that he had not been feeling that well, but, just as Mardy Fish struggled with his physical condition last year, but pushed his way to compete realizing he might never play at London again, Tipsarevic felt he had to play, in his first real playing opportunity.
Alas, despite having a similar game to Ferrer, Tipsarevic was thumped in the first set by del Potro, 6-0.  Such sets aren't always the blowout they appear to be.  The losing player often plays pretty well, but can't close out on key points, making errors alongside good shots.  Tipsarevic kept the second set closer, losing 64.  He cheered afterwards that he had made del Potro play an hour.  It's likely that Tipsarevic will finish 0-3 once he plays Ferrer on Saturday.
On Friday, Murray takes on Tsonga.  Tsonga is 0-2 and Murray is 1-1.  If Murray wants to qualify for the semis, he pretty much has to win this match.  Although Berdych is unlikely to beat Djokovic, he has a shot, and in any case, he wouldn't want a 3-way tie to determine who goes in.