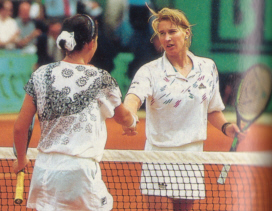 I often credit Ivan Lendl with being the father of modern tennis.  He did so many things that influenced how today's game is played from his meticulous planning to his diet to having freshly strung racquets that he would change every ball change.  In a day and age where men's tennis was all about who could hit the ball over the net the longest, at least, on clay, Lendl ushered in the era of the big serve-big forehand that continues to resonate to this day.
A reporter during the 1970s once said that only 4 players could dominate from the baseline.  They were Borg, Connors, Vilas, and Lendl.  At the time, Lendl was the newcomer.  Connors was a pretty hard hitter, but he hit flat or maybe sidespin and underspin.  Lendl could hit winners from the baseline.  This concept is so ubiquitous that it's hard to believe that winners from the baseline were quite uncommon only 30 years ago.  Even Lendl, as hard hitting as he was, hit far fewer winners than today's much more aggressive players.
If you had to look for the equivalent in the women's game, you have to look at Steffi Graf.  When she came on tour, she was every bit as dominant as Chris Evert and Martina Navratilova.  She could hit the forehand harder than any woman.  Her stroke was not imitated much (unlike, say, Federer) because it seemed so bizarre.  In some ways, she was old school, hitting flatter than most players.  And she had a slice backhand that was a joy to behold in an era where two-handed backhands were beginning to proliferate like rabbits in Australia.
As dominant as Graf was, she was to meet a rival that was like Nadal to her Federer, and that was Monica Seles.  Seles was taller than Graf, but unlike Nadal, she was a bit less mobile, and also hit fairly flat.  Seles hit with two hands on both sides, which made it difficult to decide which side to hit to.  She was a lefty, but without a huge lefty serve.  And, at a point in time in the early 1990s, she was starting to be the clear number 1.  Alas, an incident in Hamburg in 1993 where she was stabbed caused her to leave the tour for over a year.  The psychological trauma was far worse than the physical trauma.  Even as she returned and won one more Slam, one wonders what would have happened if this had never happened.  Graf took the lion's share of Slams while Seles was gone.  What else could she do?
However, before that fateful event, Seles vs. Graf was that era's Nadal vs. Federer.  While the epic battles between Federer and Nadal were often waged on the grass of Wimbledon, Seles and Graf fought on the clay of Roland Garros.
Tennis Channel has been televising great matches of the past, and the 1992 French Open final was one of those epic matches between two titans of the sport.
In particular, guess which player also had a backhand she needed to protect?  Steffi Graf.  She famously ran around her backhand and hit inside out forehands and inside in forehands.  She was an aggressive player looking for places in the court to hit winners.  It's hard not to see her influence, direct or otherwise, to Roger Federer.  Both players were capable of creating angles and Seles could thread the needle on her down the line shots.  If today's women seem too eager to go for shots that don't make sense, there's still something very classical about where to hit from these two women.
So go back and watch the 1992 French Open women's final.  It may be that the germ of today's men's game came from the women of 20 years ago.