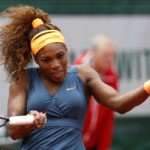 World No. 1 Serena Williams is among the top players to advance through the opening round at the 2013 French Open. It took four days to complete the rain-delayed round one.
Serena continued her amazing dominance by defeating No. 74 ranked Anna Tatishvili of Georgia 6-0, 6-1. The first set took only 20 minutes. Tatishvili was able to win one game in the 2nd set, but the outcome was never in doubt. Serena pushed her winning streak to a career-best 25 matches.
Surprisingly, Serena has already advanced farther than she did in last year's French Open, when she was stunned by No. 111-ranked Virginie Razzano in round one. That was the first and only time Serena failed to get past the first round at a Grand Slam event.
Serena's sister, No. 30 seed Venus Williams was upset in a very close match by Urszula Radwanska 7-6(5), 6-7(4), 6-4.
Other seeded players who were upset in the opening round include:
On a side note, fifteen Americans qualified for the French Open, and fourteen Americans advanced through the first round. Looking good for American tennis!