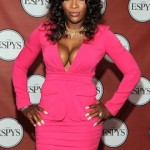 World No. 1 Serena Williams of the USA won the Female Athlete of the Year award at the 21st annual ESPY Awards.
Williams won two awards, defeating a pair of Olympians, gymnast Gabby Douglas and swimmer Missy Franklin, and former Baylor basketball star Brittney Griner. Williams didn't attend because she's playing a tournament in Sweden.
The photo above is from the 2011 ESPYs.