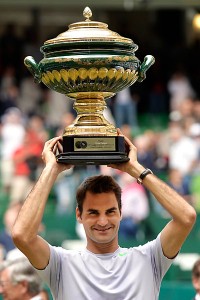 Even though it's about a week before Wimbledon, folks like to speculate who will win.
Let's look at each of the "big four" (Djokovic, Federer, Murray, Nadal).  Technically, Ferrer is number 4, and where Nadal lands will greatly impact the chances the rest have.
Rafael Nadal
Rafa has had the hottest season in his career, and should still be a strong favorite to win Wimbledon.  He's won 7 of 9 titles including the French Open.  However, all by 1 title was on clay.  Still, Rafa knows how to play on grass and reached the finals from 2006-2008, skipped 2009, won 2010, was runner up 2011, and lost early in 2012.
The big question for Rafa, as usual, are his knees.  It afflicted him last year when he lost to Rosol, and it might be bothering him now.  Unlike years past, where Rafa would have played 5 hard court tournaments (Doha, the Australian Open, Rotterdam, Indian Wells, Miami), he's only played one this year, and it's only been one week.  Even so, he's played a lot, so one wonders if the clay still isn't something that affects his knees.
Beyond that, Rafa has been hitting quite well, so it's hard to ignore, despite grass not being his "best" surface.
Novak Djokovic
Djokovic had a pretty solid French Open and had good chances at beating Rafael Nadal including an early break in the fifth set.  Grass is Djokovic's weakest surface, but he's still reasonably good at it, having reached the semifinals several times, and won the title once.
As the number 1 player in the world, I still give Djokovic a co-favorite status with Nadal.
Roger Federer
Federer hadn't won a tournament since Cincinnati last year.  That includes the US Open and the year-end championship where he had been two time champ.  He finally won a tournament in Halle, but didn't face a top ten player along the way.  He did beat top 20 player, Tommy Haas in the semis, however.  With Federer, it's tough to tell how he's doing because he's known to beat up on lower ranked players then fade against the very best.  Still, a win is a win, and Federer has to come in feeling reasonably confident.
My concern with Federer is the same as usual.  Can he handle the big servers?  Will Berdych or Tsonga or someone similar upset him because he can't break their serve.
Andy Murray
This is the first year Murray has entered Wimbledon without playing the French, so winning at Queen's Club was huge as it gave him practice.  He beat a top ten player in Tsonga, then beat number 12 Cilic in the finals.
Having watched his match against Cilic, he's certainly hitting hard enough to give tall players like Cilic trouble.  However, in both the matches against Tsonga and Cilic, they went up a set, and Murray had to buckle down in the second set to win.  In both cases, Murray ran away with the third set.  Against Tsonga, it was due to Tsonga faltering some and Murray playing well.  Against Cilic, Murray played a very solid match.
Murray appears to have improved his power game, but he wants to avoid getting to slow starts, if possible.
I put him around Federer as the next co-favorites, though I lean more positively to Murray than Federer now.
Dark Horses
Based on performance, you'd have to consider a player like Tommy Haas.  Last year, David Ferrer reached the quarterfinals.  Tsonga has played solidly, and Monfils might find his game good enough to go far, though he has yet to show this.  To me, Wimbledon is more wide open than it has been in a while.