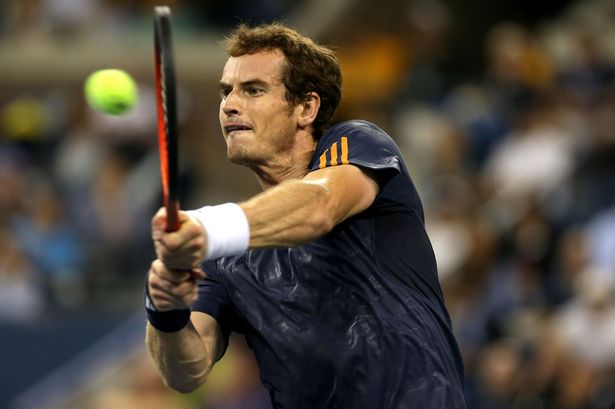 When commentators talk about Bernard Tomic, Florian Mayer, Alexandr Dolgopolov, they talk about their quirky playing styles that makes it difficult for opponents to handle.  In this lineage, however, Andy Murray predates them all (though Fabrice Santoro predates Murray).  When I first began watching Murray, I'd wonder "How did this guy win?".
He seemed to dare opponents to come to net, so he could pass them.  He wanted to use his superior anticipation and ability to hit big shots in duress to win matches.  He wasn't about overpowering his opponent.  Of the top players, Federer consistently hits harder, Nadal hits with more spin, and aims for the lines more, and Djokovic, especially in the last year, also hits a bit harder and more accurately.  This allows all 3 players to control the points much better.
Murray, by contrast, would stand way back and alternate between flattish shots and slices, preferring to send the ball crosscourt.  Murray had a few other skills that have helped lead him to the top.  Despite having one of the lower first serve percentages on tour and a cream puff of a second serve, Murray always does a great job of defending his serve.  Even when he goes down break points, he has an uncanny knack of saving them, which is critical for any champ.
This style of play often meant Murray had matches that went 6-4 or 7-5.  He would occasionally have the 6-1 set, but it was rare, even against mediocre opponents.
Murray also has to worry that he relies a little too much on speed.  The players who had longevity on the tour which include Connors and Agassi, had power, more than they had speed.  Players like Chang eventually slowed down and that made it tougher for him to win.  Murray might take some solace that Federer continues to move well at his age.  However, power is the key to staying in the game (unless you don't mind being ranked around 40 like Santoro and base your entire game on quirky styles not seen on the tour too much).
The thing is: Murray has always had the capacity to hit hard.  A few years ago, he started working on more power, but he was reluctant to use it too often.  Many years ago, he had a wrist injury quite a few years ago, somewhat like del Potro, so he might be concerned about that, but Murray, in his old days didn't hit that hard.
You can go back to several key tournaments where Murray played a power game.  Last year in the Tokyo final, Murray outhit Nadal.  In 2010, Andy Murray played a red-hot David Nalbandian in the quarters, then Nadal in the semis, then Federer in the finals, and beat them using a power game.  But, later that year, he went back to playing his usual style and frustrating critics who want to like him.
Lendl appears to have changed a few things in his game.  One thing he's advised is something that's particularly weird.  A beginner in tennis usually has one idea for strategy.  Make the other guy run.  Hit it to where he isn't.  These days, it's about hitting crosscourt, or more particularly, using directionals.
Lendl has apparently got Murray learning to switch directions and make the other player run.  You could see some telltale signs of this a few months ago when Murray would move the shot left and right in practice.  Murray's inclination is to hit crosscourt and this was often purposeless crosscourt hitting to extend the point longer, but without pressuring the player.  Look at Ferrer or Nadal.  They try to hit purposefully, to pressure the opponent.  Roddick, on the other hand, just aims crosscourt, and extends the point, or Simon, who is the king of extending a point without reason.  Simon really wants to make a match about fitness.
This hasn't been an easy transition for Murray.  Murray likes to hit crosscourt.  He doesn't like to hit down-the-line.  When you compare Djokovic to Murray, this is their biggest difference.  Djokovic loves to hit down-the-line.  Murray seems to always hit wide.  He can hit an inch to the sideline when going crosscourt, but it always seems to drift wide when he goes down the line, especially when he's aggressive.
This created problems for Murray.  A few years ago, back when Ferrer was making his ascent to the top ten, Murray faced Ferrer twice in two clay events.  Ferrer likes to pressure a righty's backhand over and over with an inside-out forehand, then when he feels an opportunity, he goes inside-in.  When he played Ferrer, Murray would send those backhands back crosscourt, time and again.  That made it easy for Ferrer because he wasn't particularly concerned about Murray going down-the-line to force him to be honest.
Murray's also trying to be a little more aggressive on return of serve.  A player like Federer often chipped his return just to get the point started figuring he had more than even chances to win a point if he started neutral.  Murray's return is so good that he can attack off of it, and Lendl appears to want him to do more of this.
The goal, it seems, is to get Murray out of matches with scores like 6-4, 7-5 where he has to break back late in a match because he squandered a break early in the deciding set he was controlling, and start to play matches where he wins 6-1, 6-3 keeping matches a lot shorter, forcing the pressure on his opponents, and giving him more time to recover.  At times, you would see the top 4 play and all but Murray would have these 6-1, 6-2 matches, and Murray would work too hard.
In two matches so far, Murray has had 11 breaks of serve.  These numbers are approaching those you'd see in the women's game where holding serve is incredibly challenging unless your name is Serena.
Up next for Murray is Deliciano, which is what Murray's mom, Judy, calls Feliciano Lopez.  Murray has generally had good luck against Lopez mostly because he plays lefties really well.  Lopez has a big first serve and volleys well for a Spaniard, but he hasn't had the results he did last year when he reached the quarterfinals of Wimbledon to lose to, you guessed it, Lopez.  And they also met in the US Open at the same point last year which was won by Murray.
That was a pretty easy match with Lopez coming off a tough four-setter.  This year, Lopez played a five setter in the first round.  So it will be interesting to see whether this has after-effects.