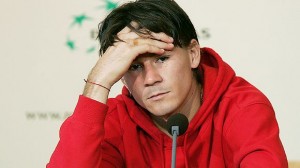 Before there was Juan Martin del Potro, there was Guillermo Coria.  He had won the French Open as a junior in 1999.
For three brief years, between 2003-2005, he was the king of clay. 2003 was a particularly good year for the Argentine.  He won Hamburg, Kitzbuhel, and Stuttgart.  One could say that he was merely a clay specialist, and was soon to be eclipsed by Nadal.  Coria only won 9 titles in his career.  By contrast, Tim Henman, the grasscourt Englishman, won 11 titles, but his career was much longer.  All of Coria's titles were between 2001 and 2005, and the bulk of them from 2003-2005.
For such a master of clay, he only had one chance at any Slam, which was the 2004 French Open.  Here he face unheralded Gaston Gaudio, also from Argentina, who had a tournament of a lifetime, a bit like Michael Chang's 1989 run if Chang had amounted to nothing afterwards.  By all accounts, he was crushing his opponent, but Coria unfortunately lacked a great deal in the mental department, at least, as his career moved onward, being more like the flighty Dinara Safina, sister of Marat.  Coria dominated the first two sets, but then gave up sets 3 and 4, and ultimately lost 8-6 in the final set.
Despite a solid 2005, Coria began suffering from service "yips" leading to numerous double faults.  There have been women players that have struggled similarly, but ultimately righted the ship, but Coria never seemed to recover from this mental block.  While he continued to win matches despite a poor serve (which goes to show you his prowess off the ground, and the lack of attacking returners in the day), it soon became so problematic that  he played sporadically in 2006 and then left the game for a year and a half.  Officially, he retired in 2009, but really his game was gone by 2006.
Coria played in the days when the Spaniards and even the Argentines (and Kuerten of Brazil) were starting to make the French Open a surface that clay specialists won.  While Nadal is the king of clay, he has shown he can win on grass and hard courts.  The big change of the 1980s was the increasing ability of clay courters to compete on faster surfaces, mostly by learning to hit much harder off the ground, and hitting superb passing shots.  Even if Coria had recovered, it seems many players would have been ready to counter him, in particular, Rafael Nadal, who was on the rise.  Perhaps if Coria had not fizzled so badly, he would have stopped Nadal in the first of his French titles and delayed his ascendancy.
But it's been rare that a player, who is slightly younger than Federer, would have faded so badly by his mid 20s.  Some of his contemporaries, such as Tommy Haas, Juan Carlos Ferrero, Lleyton Hewitt, and David Nalbandian continued to work hard, but injuries plagued their careers, not mental collapses.
There are few other comparisons to a player like Coria who excelled for a brief time, only to fade away.  One has to look at the women's game and perhaps point to Dinara Safina as the closest example of someone who was headed to the top, but whose mental woes stopped their ascendancy.  Roscoe Tanner had a very brief brilliant career, mostly in 1978 and 1979.  He played other years, for sure, but they were never as good as those two years.  Jim Courier might fit a similar bill, playing well from 1991-1993, but still had solid years from 1994-1996 and won a title in 1999.  With 4 Slams to his credit, his career at least spans a good 5 years, which is longer than Coria was good, plus Courier was number 1, and had it not been for a "dead arm", he might have rivaled Agassi for many years.
There have been other short-lived champions.  "Little Mo" Connolly won 9 Slams, but a horsing accident ended her career at 19.  She had won ever Slam she ever reached the finals, and had she not been hurt, she might have stacked up Slams and been the best ever.  But her star shone far more brightly than Coria who might have, after all was said and done, been more like a cross between David Ferrer and Rafael Nadal or like an early David Nalbandian, strong enough to beat most clay courters, and serviceable on other surfaces.
In the end, as good as he was for a time, history will probably show that due to the "yips", he was a middling player that underachieved, and thrived at a time before Nadal got good.