Written by Charles Lin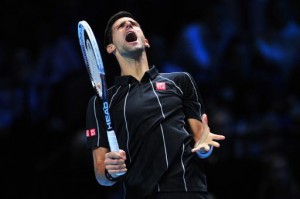 With the ATP World Tour Finals concluded, it's a good time to look back at the year in tennis.  Yes, yes, there's still a Davis Cup final to be played, but we know enough to start looking back.
Where we thought we were heading in 2012
At the end of every year, fans prognosticate about what will happen in the future, and invariably, folks do a bad job.  Here were the kinds of predictions fans were making:
Djokovic would have a dominant year and win 2 Slams, including the French
Nadal would contemplate retiring, or at the very least, get upset in the French Open
Players like Raonic, Nishikori, Ferrer would go far in a Slam
del Potro would win another Slam
Federer would win Wimbledon
Murray would win Wimbledon
Many of these kinds of predictions came from seeing where we ended in 2012.  Federer reached the finals of the World Tour Finals upsetting Andy Murray in the semifinals.  Rafael Nadal had not played since Wimbledon.  Murray had reached the Wimbledon finals, won Olympic gold, and the US Open, but couldn't beat Djokovic in Shanghai, and didn't beat Roger Federer at London.
Many felt that Nadal would take as long to recover as del Potro who after his third full year back (injured in 2010, played full time 2011-2013) is about to where he was before he left.
Nadal comes back better than ever
As part of his return, Nadal wanted to play on clay, blaming the hard courts for his knee woes.  He decided to play in the "Golden Swing", a series of tournaments in South and Central America, something he hadn't done since he started winning Slams.
His first tournament back was in Chile which didn't have a stellar field.  He reached the finals, but lost to Argentine Horacio Zeballos.   Then, he played in Brazil, and beat Nalbandian in the finals.  He took a week off, then played Acapulco, where he decimated Ferrer in the finals.
The real test would be on hard courts.  Nadal planned to play Indian Wells, but skip Miami.  In Indian Wells, he beat Federer, Berdych, and del Potro en route to the title.
Nadal had yet to play Djokovic.  The two met in Monte Carlo where Djokovic won.  Nadal had won the title eight times in a row prior to that.  Nadal won Barcelona over Almagro, Madrid over Wawrinka, and Rome over Federer, then defended his French Open title with a 5-set win over Djokovic.
Nadal skipped Halle prior to Wimbledon, then had his one big shock loss, to Steve Darcis, in the opening round of Wimbledon.  Everyone wondered if his knees were bothering him again.  Nadal assured skeptics that it was not a real problem.  Nadal returned back in Montreal, beating Djokovic in the semis, and Raonic in the finals, then won in Cincinnati beating Isner in the finals.  He would beat Djokovic once again at the US Open.
After that, Nadal didn't win another tournament, but he went deep in every one, reaching the finals of Beijing (losing to Djokovic), the semifinals of Shanghai (losing to del Potro), and the semifinals of Paris (losing to Ferrer).  Nadal also reached the finals at London, and lost to Djokovic.
With all those Masters 1000 titles (5 in all) and 2 Slams, Nadal regained number 1.
Federer slips to 6th in the world
After Federer won Wimbledon in 2012 and reached the year-end championships final, there was thought that Federer still had game.  Few would have predicted that 2013 would be his worst year on tour since he became number 1.
Federer won only 1 title (Halle), his fewest since 2001.  Federer failed to reach a Slam final since 2002.  He lost to Murray in the semis of the Australian (his best showing), to Tsonga in the quarterfinals of the French, to Stakhovsky in the second round of Wimbledon (his worst showing in many a year), and to Robredo in the fourth round of the US Open.
Indeed, he was working hard to reach the top 8 so he could play in the year-end championship, and while he reached it with a little margin, it was close.
Federer's early loss in Wimbledon lead the Swiss to try a bigger racquet which he did in Gstaad and Hamburg, but he lost in the semis of Hamburg to Delbonis and to Brands in the opening round at Gstaad.  Federer abandoned the larger racquet claiming that his back was still an issue.
Federer would start to clean up his play at the end of the year, reaching the Basel final for the tenth time (losing to del Potro), and the semifinals at Paris and London.  Fans held out hope that a healthier Roger Federer might move back up the ranks in 2014.
Murray wins Wimbledon
At the end of the year, this victory seems like a distant memory, but Murray finally won Wimbledon, something a British player (male) hadn't done in 3/4 of a century.  Murray was helped by a game del Potro who pushed Djokovic to 5 sets in the semifinals (and did something similar during the Olympics) and a field decimated by upset losses to Federer and Nadal.  Murray was able to beat Djokovic in straight sets, aided a bit by the sunny day that left Djokovic unwilling to grind out long points.
Murray would have a lackluster US Open where he reached the quarterfinals before losing to Wawrinka.  Shortly thereafter, Murray would have back surgery.  He had complained that his back had bothered him for several years, but he had been managing the pain.  Murray expressed hope that he could return by the Australian Open, but made no guarantees, only saying that he would return if he felt he had a good chance to win the title.
del Potro moves to number 5
Juan Martin del Potro looked like he might be the next number 1 back in 2009 when he had the biggest forehand in the game and won the US Open.  However, he was out most of 2010 after surgery, and when he returned, he built his game around steady play rather than fearsome play.  He finished 2011 at 11, 2012 at 7, and has now reached number 5.  In a way, he had a quick recovery, but compared to Nadal, not really.
Wawrinka and Gasquet move to the top 10
At the start of the year, no one expected Wawrinka and Gasquet to reach the top ten.  They had been solid top 20 players, but that 10 spot is a merry-go-round.  Players like Almagro, Tipsarevic, and Monaco had found their way up to that ranking, only to find themselves slipping back down.  Wawrinka hired a new coach, former Soderling coach, Magnus Norman.  One of Gasquet's coaches left him (Piatti).
And the rest
Jo-Wilfried Tsonga lost ground to Richard Gasquet, but hung on as the year end number 10.
Milos Raonic hired a new coach (Ljubicic), had a blah European summer, and had a strong fall reaching 11
Tommy Haas had a strong year and finished 12
Isner had a solid American summer (but did not do well outside the US) finishing 14th
Mikhail Youzhny had a solid year finishing 15th
Fognini also worked his way up the ranks to finish 16
Nishikori was close to entering the top 10, but finished 17th
Janowicz backed up his Paris finals with a Wimbledon semifinal and finished 21
Dimitrov made a push up the ranks to finish 23rd
Gulbis finished one spot behind him at 24th after rededicating himself to tennis
Vasek Pospisil rose up the ranks helped by a semifinal showing at Montreal and Basel and finished 32
Tipsarevic fell out of the top ten with a series of losses and finished 36
Cilic, who was suspended for PEDs, still managed to finish 37
Former top 20 player Sam Querrey slipped to 46
Marathon man, Nicolas Mahut, won his first two titles on tour and finished 50.
Erratic Bernard Tomic has the Isner disease, except he only performs well in Australia and Wimbledon and finished 51.  His father was banned from most tournaments.
Jiri Vesely, the not quite a teen, is in the top 100 at age 20 and rank 82,
Donald Young, who once famously lost around 20 first round matches in a row, recovered to become a Challengers warrior and work his rank back up into the top 100.

Related Articles
Share
About Author
Charles Lin
(0) Readers Comments
© 2014 Essential Tennis. All Rights Reserved.