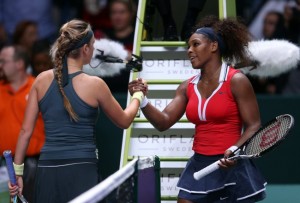 World No. 1 Victoria Azarenka is no longer World No. 1 in spite of defeating No. 2 ranked Serena Williams in the final of the 2013 Qatar Open held in Doha, Qatar Feb. 11-Feb 17. Final score: 7-6(6), 2-6, 6-3.
In spite of the loss, Serena took over the No. 1 ranking simply by advancing to the final due to the ranking point system.
Victoria had lost the last 8 times to Serena. Though it wasn't easy, Victoria finally broke the streak of Serena wins.
Victoria took the first set 7-6(8-6) in a tiebreak, then crumbled a bit to lose the second set 2-6. It appeared as if Serena had the momentum and would win her 9th match in a row over Victoria. However, Victoria kept her cool in the decisive set taking it 6-3.
After the match, Victoria said, "I won't say I didn't feel pressure, I was just really into the match and really focused on what I had to do. Near the end she saved a match point with a good serve. That's what you normally expect to get from Serena when she's in trouble—a bullet. But it wasn't a big deal, really. I just had to keep my composure and make another opportunity and create another match point."
In taking over the No. 1 ranking, Serena becomes the oldest No. 1 player since the computer ranking system was started.