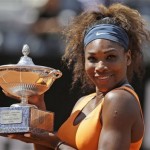 World # 1, Serena Williams continued her dominance on top of the WTA tour by handily dismissing # 3, Victoria Azarenka 6-1, 6-3 in the championship match of the 2013 Italian Open completed in Rome today.
In doing so, Serena extended her longest career winning streak to 24 consecutive matches. Her previous longest streak had been 22 matches. It appears that, as the oldest World # 1, she will extend her winning streak for quite a while before anyone can find the tools to compete with her.
Serena lost only 14 games in the entire tournament. Four games is all any opponent could win against her in a match, and three is the most anyone could manage in a single set. Serena was truly dominant, and appears to be playing the best tennis of her life. That is a good place to be going into the French Open in a week.
After the match, Serena said: "The first three games took about 20 minutes. It wasn't easy, nothing is ever easy. I think the difference today was I took the opportunities when I had them and came up with some really good shots. And this was the best I've moved all week. I feel fit, and hopefully it'll stay like this.
"Last year I was feeling excellent on clay but didn't do that great at Roland Garros – this year I'm cautious and I want to work hard and stay focused and win every point I play, and not slack at all."