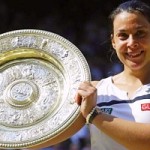 No. 15 ranked Marion Bartoli of France earned her first ever Wimbledon Championship with a domineering win over No. 24 Sabine Lisicki of Germany, 6-1, 6-4 at the 2013 Wimbledon Championships.
It was not the final match up anyone envisioned with the likes of Serena Williams and Maria Sharapova seeded No. 1 and 2 respectively. But Serena was taken out by a determined Sabine in the 4th round. She followed that amazing win two matches later by downing No. 4 seed, Agnieszka Radwanska in the semifinals.
Maria was ousted by a relatively unknown Michelle Larcher De Brito of Portugal in round two, a very early unexpected exit for Maria.
After the match, Marion said, "I really felt I was playing probably my best match of The Championships. I was doing everything well. I was moving well, I was returning well. I really played a wonderful match… Just to finish on an ace to win Wimbledon, you saw the chalk come out of the line… I could have seen it in slow motion. You can't describe that kind of feeling. You cannot put any words what I feel in this moment."
Meanwhile, Sabine tweeted "Wasn't meant to be…yet! Thanks so so much for your support throughout the entire two weeks… It was such an amazing time and journey. The experience will help me in the future. Congratulations to Marion, who had a dream run and played great!"