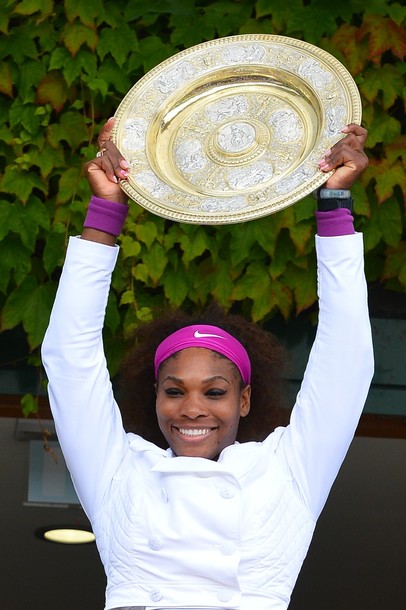 On Saturday, 4-time Wimbledon champion Serena Williams of the USA did it again, adding a 5th Wimbledon trophy to her still expanding trophy case by defeating No. 3 seed Agnieszka Radwanska of Poland 6-1, 5-7, 6-2.
At 30 years old, after missing three Grand Slams in a row in 2010 and 2011 due to injury and health issues, and after being shocked in the opening round at the French Open just weeks ago, Serena came storming back to show the world she still has what it takes. In doing so, she hit 102 aces for the entire tournament, an all time record for any male or female player.
At the award ceremony, Serena said: "I can't even describe it. I almost didn't make it.
[Two] years ago I was in the hospital, and now I'm here again. It's so worth it, and I'm so happy… Agi played so well. That's why she has had such a great career, and so young. You guys should give her another round of applause because she's amazing, and she did an amazing job today."
14 time Grand Slam singles champion Serena is now 42-15 in WTA singles finals, and 5-2 in Wimbledon finals. Serena won the 2010 Australian Open and Wimbledon titles, then stepped on broken glass at a restaurant after Wimbledon and was sidelined for about 11 months. She needed two operations on her right foot. Then she got blood clots in her lungs, for which she needed to inject herself with a blood thinner. Those shots led to a pool of blood gathering under her stomach's skin, requiring another procedure. She also suffered from a pulmonary embolism, a time during which she wasn't sure if she would survive.
Upon returning to play last year she won the Stanford and Toronto titles; this year she also won at Charleston and Madrid. Who knows how many more titles she would have added if she had not been sidelined those 11 months.
Serena had 17 aces in this match alone (102 for the tourney), while Agnieszka's two-week total was 16 aces. Serena was playing in her 18th major final; Agnieszka was playing in her first, and the first ever final for any player from Poland, male or female. In fact, Agnieszka had never won a match past the fourth round at a Grand Slam tournament until this week.
At age 30, Serena is the oldest women's singles champion at any major tournament since Martina Navratilova was 33 when she won Wimbledon in 1990. And Serena sees no end in sight. Asked Saturday evening what more she could possibly want, she replied: "Are you kidding? The U.S. Open. The Australian Open. The French Open. Wimbledon, 2013." Seconds later, she declared: "I have never felt better."