Wondering which of Adidas' newest tennis shoe models is right for you? I've worn both the Barricade 8 and the Adizero in competition over the past couple months and in this review I'll tell you exactly what I think about them both. I'll also tell you which I personally prefer for my own feet as I scamper around the court.
In the interest of full disclosure Adidas was kind enough to send me a free pair of each so I could test them out. This is not a paid product review for Adidas, I'm simply returning their favor by publishing my thoughts.
Barricade 8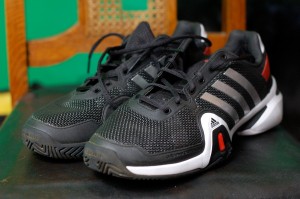 I'll be honest, I've never been a fan of the Barricade before. I tried them once or twice during my playing and full time teaching careers and each time they just felt really bulky and clunky to me. Of course, the benefit you get from all of that bulk is legendary longevity, which as I remember was definitely true of the pairs that I've owned in the past.
My initial feeling about the Barricade 8 was basically what I expected: the shoes felt pretty substantial as I slipped them on for the first time. The upshot is a very solid, confident feeling between you and the court. The downside is it feels like it takes more energy and effort to really get my feet moving quickly. As somebody who has always had quickness and footspeed as a major weapon this always bothered me about heavier shoes like the Barricade 8.
Now, please understand me here. I'm not at all saying that I believe this shoe keeps me from playing my best tennis because of it's weight, or that it actually slows me down in any measurable way (not that I've tried). I'm simply trying to communicate how shoes of this style make me feel on the court. If you love a solid, stable, and supporting pair of shoes regardless of weight then you're probably not going to do any better than the Barricade 8.
Adizero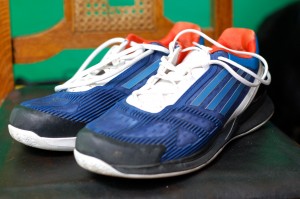 I knew right away that I was going to like these shoes, right from the first time I wore them around the house to start breaking them in (always break in your tennis shoes!). They're almost a full 20% lighter than the Barricade (13.1 oz versus 15.8 oz) and they have that nimble, low to the court feel to them that I really like.
One of my absolute favorite parts of tennis is tracking down ball after ball that nobody else but me thought I could ever touch. Anticipation and straight line speed have always been cornerstones of my game so when I put on a shoe that just feels "fast" it almost doesn't matter to me what it's lifespan will be. Don't get me wrong, if it's cheap feeling and built like crap then I'll pass every time, but the Adizeros don't look or feel like that in the least.
This shoe ran a little bit big for me which was concerning at first but once I got my Thorlo's on (all I ever wear for tennis) and fully laced them up they were just about right. If I was playing every day again like I was in college I'd probably opt for a second pair of socks to really make them fully snug but as it is they fit just about right.
This brings me to my #1 annoyance about these shoes (a very minor one). The way they're laced up out of the box just doesn't make sense to me at all. I won't subject you to a description of exactly what the pattern is but suffice it to say it makes both tightening and loosening the laces a pain in the butt. I honestly don't know what they were thinking here besides the fact possibility that Adidas was trying to make it difficult for them to loosen on their own. Of course this could easily be remedied by re-lacing them myself but I haven't taken the time to do so. Obviously not a huge deal, but something that's been an annoyance for me.
Conclusions
When it comes to my shoe wants and the style of my game the Adizero is my favorite hands down. If you value stability and longevity over lightness then the Barricade will fit the bill very nicely for you. If durability doesn't matter as much and you prefer lightness over anything else then I highly recommend the Adizeros.
Either way these are both really solid shoes and I highly recommend them. It's very important to understand the pros and cons of each so that you can make the best decision for you and your game.
Lastly, speaking of durability, I wish I could say that I've put these both through the ringer on the court for months and months but I haven't yet. They've both worn as expected for the amount of time that I've spend on the court with them. I fully expect the Barricades to last a good bit longer, and I'm personally totally fine with that.
I'd like to thank Adidas for sending me both of these shoes. I've enjoyed testing them out! If you have any comments or questions at all please feel free to leave them below. Hopefully this has been helpful to you!