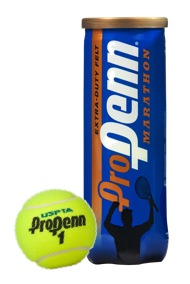 Penn is introducing a new more durable and longer lasting tennis ball, dubbed the Pro Penn Marathon Ball.
Slated to debut sometime this January, Penn's new ball will provide "greater durability, longevity and visibility." Penn has stated that their secret to the Marathon Ball is their Encore Technology TM.  Making the ball last 22% longer than the average ball.  This new technology not only increases durability but has no effect on the weight or spin of the new balls.  The Pro Penn Marathon also introduces LongPlay felt.  New wool and high tenacity fibers along with Penn's Smart Optik treatment of the felt, reduces the amount of dirt and grit the ball picks up making the felt last longer and remain brighter.
The Pro Penn Marathon ball will be offered in three different versions.
Regular Duty – For soft court play
Extra Duty – For hard court play
Extra Duty High Altitude – Weighing the same as the other versions but contains a different ball core.
This ball has not been put on the court or shelves yet, but releasing early in the new year, it is definitely worth a try. For recreational players sick of reaching for "dead-balls" this new ball could be just what you dreamed of. I will be picking up a sleeve of these balls as soon as they hit the market
Anticipation Rating: 8/10
-Running Fox