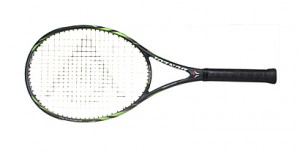 I was recently able to demo Dunlop's Biomimetic 400 Tour racquet from my local tennis shop.  I had been reading about this racquet for a few days before the demo, and all I can say is WOW!  The Biomimetic 400 did not disappoint, the anatomic construction technology applied to the throat of the frame diffuses vibration into an inverted channel that extends to the base making almost all shots feel clean.  The racquet itself is a little stiffer but permits the user more power.
I have to state this version of the Biomimetic is similar to the Dunlop 300, but weighs more and has improved graphics for a cleaner look.  I held both 400 Tour and the 300 Tour while at the tennis shop and the difference is noticeable.  Depending on what feel you prefer, the newest version seems to be more balanced.  With the anatomic construction technology applied to the throat of the frame, a slightly heavier stick with  more comfort and less racquet twisting are expected.
The Playtest:
Ground Strokes:  Hitting from the baseline with heavy spins is what this racquet excels at.  Pushing your opponent from corner to corner with plenty of control.  I felt like I was able to place my shots accurately and with a very high amount of spin and power.  I had more "pop" on my forehand as the racquet is heavier.  Both forehand and backhand shots felt controlled and clean.  Some of my flatter drives tended to sail long though.
Serve:  I was able to place first serves with good accuracy and spin.  Second serve kickers seemed to "explode" off the court and jump away.  Awesome serving power with this racquet.
Volleys:  Good depth and feel on most volleys.  I felt slightly late on a few on shots hit with pace directly at me.  This could be due to the weight or me being mainly a baseliner.
Overall:  Very solid racquet that gives you good power and spin.  When not finding the sweet spot, balls tended to sail long from time to time.  I think the sweet spot may be smaller than the 300 and 500's.  Good touch around the net, and great from the baseline.  If you are looking to create spin and controlled power from the baseline, this is your stick.
Fox Rating:  8/10
-Running Fox