Wilson has updated its Blade line this year by putting in their new BLX technology.  BLX is suppose to improve the "feel" of the racquet.  So, let's see if it's true.
Stringing setup:  I strung the racquet with Luxilion ALU Rough in the mains, and Gamma Live Wire 16g in the crosses on a constant pull machine at 52/55 lbs.  The racquet is a 18×20 string pattern.
Ground Strokes:  I fe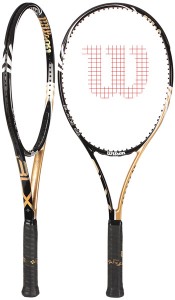 lt like I had a lot of control with this racquet.   On my forehand, I was able to take pretty big swings without fear that the ball was going to fly on me.     I loved it on my backhand and felt like I had plenty of control, and could place the ball where ever I wanted.  I was able to get decent spin even with the 18×20 pattern, and never felt like I have to overly force my way through my shots.  With around a 11.1 oz. strung weight, I felt that there was plenty of weight to handle hard hitters, but not so heavy, that I got fatigue after the first set.
Serves:  I felt that I was able to get decent pace and spin on the ball despite the 18×20 pattern.  Placement was easy with the racquet, with slice serves getting plenty of curve, and topspin second serves getting plenty of kick to hopefully keep me out of trouble with that return.
Volleys: Well, when I actually got my feet into the right position (it's amazing what good footwork will do for your game), I got great pop and depth on my volleys.  Feel was definitely there, and with it being 6 points headlight, mobility was not an issue.
Players who should try this racquet:  I definitely think this racquet is geared more to players who take full, fast swings.  So, anyone who has decent technique, and I would say is a 3.5 or above should give this racquet a demo.
Overall Impressions:  I really like the new Blade.  I think it's a solid offering and upgrade from the K Factor series.  Does the BLX made it feel any different from its predecessor?  I guess that depends on the person.  I, to be perfectly honest, didn't notice that much of a difference between the two.   But since it's going to become increasingly more difficult to find the K Blade Racquets, if you're having to decide between the two, I would go with the latest model, just so you know that you can get the same one down the line should you decide to get more then one.