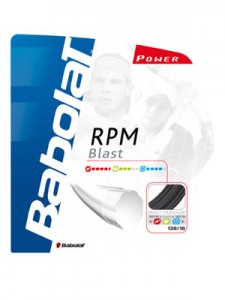 I know that the RPM Blast has been reviewed before, but it never hurts to have a second opinion.  As many know, this is the string that Babolat says Rafael Nadal plays with.  So, how does it feel to a mere mortal?
Stringing:
Like most polys, the RPM Blast does keep it's coiling when unwrapping.  It does kink if you get it caught, but this is to be expected with this type of string.   As far as stringing, I didn't find it anymore difficult to string then other polys of the same nature.  I found about the same amount of resistant when stringing the crosses, and when I got to the end of the crosses, I had to do the "sewing" method to get through the last couple.  I strung with a Gamma 8500 ELS stringer.  The racquet was a Head Speed MP @ 57 lbs.
I tested the string's tension 48 hours after stringing, and it only lost about 13%.  And, after playing with it for an hour during a hard hitting session on the ball machine, it still maintained that same tension.  So, I would say that it holds its tension rather well.  I'll have to check it in a week or so to see what happens to the tension then.
Playtest:
My usual string set up on my racquet is Luxilon ALU Rough (Mains) with a soft synthetic (Crosses) at 56/59 lbs.  I usually don't play with all poly because of the stiffness of the string, but with the RPM Blast, I found it to be surprisingly forgiving and soft feeling.
On my ground strokes, I found that I could swing quite freely and keep the ball in the court, though I felt my shot fly on me a bit, and might be the fact that I strung it a little looser then I'm use to because I usually don't string with all-poly.  I think if I were to do again, I would string it a couple of pounds tighter and see if that helped.  On the serve, I got plenty of pop when trying to go big down the middle, and found lots of spin when wanting to kick one out wide on the ad-side.
String movement was minimal, and I hardly ever had to move my strings back into position.  Although, I always like moving my strings back because it gave me time to think about what happen during the previous point.
I did fine some notching of the string after I hit, which I guess should be expected because of the softer nature of the string.  Still, I wasn't expecting that to happen after only 1 hour of hitting with a poly.
Who should try this string?
This is the type of string that should be used by players who like to swing for the fences when they play.  It will definitely benefit those who hit with lots of spin and are looking for more control then your normal synthetics.  I would caution players who do not take big swings from trying this string, mostly because the benefits that this string provides does not apply to them.  This string is meant for those who take long, fast swings through the ball and like to provide their own power.
If you're a counter-puncher or the type of player that likes to chip and hack the ball back, I don't believe you will get all of the benefits that this string is suppose to give.  The only thing you would get out of it is durability, but if you normally don't break strings that often anyways, I would go with a string that will help you get a little more power and feel (for example, Wilson NXT or Sensation).
If you're coming from a soft-synthetic to the RPM Blast, I would suggest stringing it a few pounds looser then you normally would.  For example, if you normally string your racquet at 60 lbs. I would string the RPM Blast at 56-57 lbs.  If you play with polys all the time and just want to test out this new string, I would go with whatever tension you normally play with.